Wondering if Vivint is the best system for you?
Let's Talk About Why Vivint Rocks.
First off, did you catch the Fox4 News Monday night? A burglar entered a Vivint protected house in the middle of the night on Sunday Vivint preformed flawlessly. Upon break-in residents immediately received notifications, were awoken by the system, police were dispatched and the burglar's face was caught clear as day on their Vivint doorbell camera, now for the whole world to see.
Take a look at the news report. http://www.fox4news.com/news/206446530-story
In an ideal world, break-ins never happen; in the real world, break-ins happen and unfortunately, the statistics are astonishing. The U.S. has an average of 2 million break-ins per year. The Rasasack family in the Fox4 video never thought they would be victims of a break-in but thankfully they understood the odds. This week Vivint Home Security changed the lives of the Rasasack family. The burglar was scared off, police were notified and now the police know exactly who they are searching for. Vivint Security Systems not only helped the Rasasack family this week but the success of their Vivint system will also ripple effect, taking one more criminal off the streets, protecting more people in the future.
Obviously, from first-hand experience we can see that Vivint is an excellent home security company. The tricky part can be picking which plan is best for your needs and preferences. That's where My Utilities comes in. We want to make it easy for you to see which features interest you and which you don't mind leaving out.
Each of the 3 Vivint Security packages offers the following base monitoring and equipment features:
Vivint Monitoring Service
24x7x365 monitoring
Free Vivint mobile app
Vivint Live service
Event notifications
Severe weather alerts
24x7x365 tech support
Standard Security Equipment
Vivint SkyControl panel with 7'' touch display
Smoke detector
Door & window sensors
Motion detector
Key fob
Vivint yard sign
Now let's take a look at the three packages, Smart Protect, Smart Control, and Smart Complete.
Smart Protect
This base plan gives you basic monitoring and allows you to choose from several different pieces of security equipment. Their selection process gives you flexibility with choosing which special features make the most sense for you personally. With Smart Protect you are given 7 "points" to exchange for special security features.
Here is an example of spending your 7 points: 4 door/window sensors (1+1+1+1), a Key Fob (1), and one Motion Sensor (2) = 7 points.
One point Security Items:
Door/Window Sensors
Key Fob
Keypad (PAD1)
Panic Pendant
Lamp/Appliance Module
Two Point Security Items:
Motion Sensor
CO Detector
Flood/Freeze/Heat Sensor
Glass Break Sensor
Firefighter Device
Smart Control
Smart Control is the next package and in our opinion can be the best bang for your buck. With Smart Control you get the base security monitoring plus 9 points of security equipment as well as 2 smart home devices. An example of this would be similar to the Smart Protect example.
4 door/window sensors (1+1+1+1), a Key Fob (1), one Motion Sensor (2), one CO Detector (2) = 9 points of security equipment. PLUS one Doorbell Camera and one Indoor Camera.= 2 Smart Home Devices
Smart Complete
Smart Complete is very similar to Smart Control. The only difference is you get one additional Smart Home Automation device; you can get that Amazon Echo you have been wanting!
Smart Home Automation Features
Choose 2
Deadbolt Door Lock (Brass, Bronze, Nickel)
Doorbell Camera
Garage Door Controller
Indoor Camera
Integrated Door Lock (Brass, Bronze, Nickel)
Vivint Element Thermostat
Vivint Ping Camera
OR
Choose 1
Nest Learning Thermostat
Outdoor Camera
Space Monkey (Cloud storage for camera images)
Amazon Echo

You can always further customize your package by adding as many smart home devices as you wish. Each added device will just increase your monthly rate with each additional feature you add.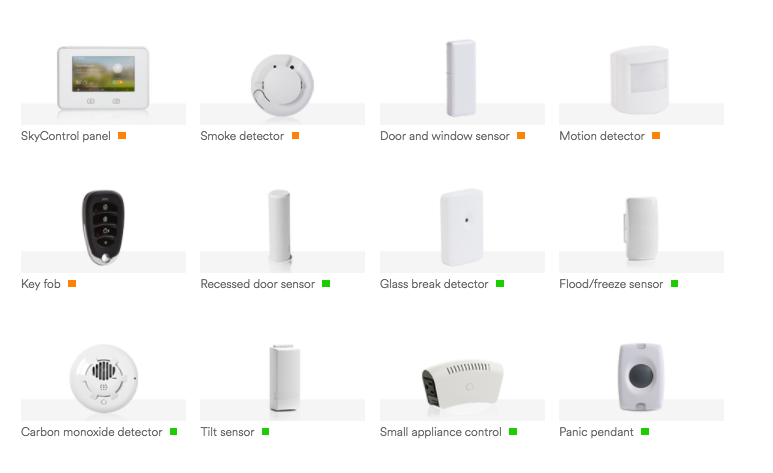 This chart also is helpful in comparing the three different plans.